VC's Message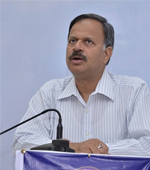 Traditionally, Utkal University has always been a symbol of human empowerment and index of intellectual advancement of state of Odisha. Being the oldest University of the State, It continues to represent aspirations and occupy a place of pride in the minds of all of us, be in Odisha or Outside. For me, It will be a matter of great pride and intense emotional fulfilment to participate in transforming it to an University of excellence and put it on the world map of great universities. This can only be done if all of us at Utkal University work in unison in complete togetherness to make this a place of learning vibrant with new ideas and innovations in an atmosphere of collegiality amongst students, faculty and the administration.
Admittedly, there are a number of shortcomings that will pose severe challenges for achieving this goal. Nevertheless, this is part of contribution to nation building and we at Utkal University must never forget that. In this context, I earnestly appeal to all my colleagues and students to cooperate and complement each other in our march towards excellence.
As we start this process, our priorities will be faculty development, putting in place a state of art knowledge delivery system, fostering excellence in research and innovation, create a responsive as well as technology enabled administration, infrastructure development, campus security and engagement with the societal needs in Odisha.
The advent of massive digitisation in education and incredible global connectivity is slowly changing the concept of traditional universities. Utkal University too would need to change fast in keeping with the times to keep up with the global progress.
Lastly, I wish all the students , faculty and staff my personal best wishes.